File Label Express is a web application that creates data driven labels and provides basic records management with its Pro package. It serves filing requirements for organizations large and small. Implement records management strategies from the ground up, starting with standard labels, then continue to adapt to meet your requirements.
User Interface
We create custom record entry forms tailored to your needs and provide coverage to your entire enterprise by implementing new projects. Begin your journey by generating professional, standard labels for both side and end tab filing systems. You may enter multiple records at a time or create a single entry. Either method will render labels while adding new records to the database. As data is entered, duplicates are eliminated.
Through this system, you not only originate new track-able records; but you create quality, high end labels that will drive the efficiency of your filing system.
Batch Import
In many cases, files are originated from some other business process. Import data in bulk from a spreadsheet to use this data seamlessly in your filing system. Our batch importer allows you to map fields on the fly from any spreadsheet in Excel format (.csv, .xls and .xlsx). Duplicate entries are detected and removed.
Here a few samples of custom labels created with File Label Express: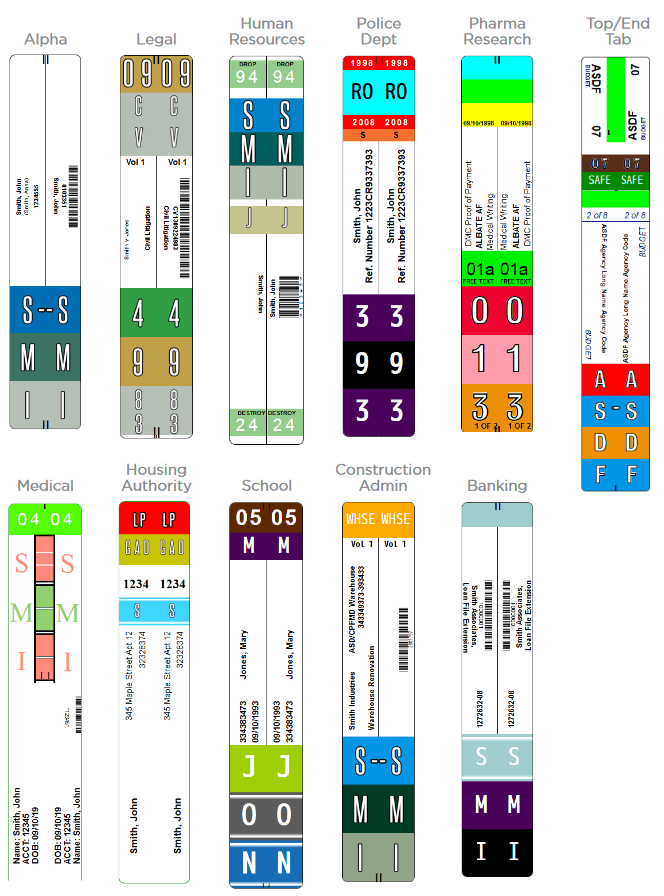 Records Management
With an affordable upgrade to our software, you can hold and store data to take the next step in your records management strategy.
Features
Store and search your record data
Batch reprint labels at any time
Create reports
Batch Export (to use your data in other applications)
Label switching, depending on field value
Enable basic tracking with status and location fields
Introduce non-label record fields to further customize your system
While you enter record data for your filing system, why not also compile useful information in one place to effectively manage your records?
File Tracking
Upon entering the tracking system, you will see an open index of all records in the database. Each index value is searchable by simply selecting it, which links record types. If you'd like to know all records in a location, click the link for that location in the record data. The software will return all records in that location. Status fields are searchable in the same manner.
Search
For more advanced search requirements, let us customize a search form to your exact specifications at no extra cost with our electronic form engine. Our software is flexible and customizable enough to meet advancing requirements. Our architecture allows you to change and adapt without disturbing past strategies.
Lists
Select items from the tracking interface to compile a list. Lists are useful for the following operations:
Transfer or check records out to locations or associates
Export index data for use in storage or scanning
Create a report
Batch update all records based on rules you establish
Batch reprint labels before or after batch updating them
Reports
Reports are created similarly to lists. Search and select the desired records from the main tracking screen, add them to a report and then provide a name and additional notes to export the record report in PDF format.
Once created, our integrated viewer allows you to annotate the report with redactions, highlights and sticky notes. In addition, the viewer enables you to:
Print the Report
Share the Report
Download the Report
Add pages of information relevant to the report from your workstation or network share.
Customize reports to your exact needs and create them with a single click.
Status and Location
Status and location fields are the backbone of a basic tracking system. They serve to keep records organized and accounted for. Status fields accommodate many strategies for dealing with your records when it comes time to archive, scan or destroy them. These fields are used to create precise reporting on the state of the record system. In our mobile app, they provide a menu for locating records, then assigning them a new location or a status based on where they are and what is being done with them. For batch update, they can be added to the form that allows the bulk transfer or reassignment of status values.
For a check in/check out system, the status is used to accommodate this system. For records that have or will be scanned, a status is assigned to reflect pending actions or actions that have reached completion. For storage, an "archived" status is applied. Combined with the location field, you can quickly get a granular view of your management process. Create lists to perform batch operations that will manipulate many records with ease.
Records Retention
If you add a destruction date, scan date or archive date to your records, you can create a simple retention scheme, which takes the records management system beyond managing physical records. These fields can be configured in the manner that best suits your needs.
Label Switching and Batch Reprints
File Label Express has the ability to compile records for batch reprints or in altering record data to render and entirely new label that will reflect a change in record status.
The most common use of the switch is to render records active that had previously been inactive or the reverse. In many cases, a separate color bar is used to make these types of records noticeable or conspicuous from other records in the same set. Records may also be brought forward, year over year. We can batch these together for a reprint of entire strip labels, or use the switch new year bands alone may be printed to take such tasks from time consuming and tedious to simple, quick and precise.
Batch Export of Record Data
File Label Express enables export of record data. For example, simply locate your storage records, add a box number, send detailed inventory to your storage vendor and change the location of those records to storage.
Why File Label Express?
File Label Express was designed and developed by records management professionals to bring a high quality and responsive web solution to your filing requirements. We are the low cost provider for color coded file labels and print services.
Are you in the market for a filing system, or are you still relying on your office supply provider, filing system dealer or RMS software provider for file label and tracking solutions? We provide a factory direct option for label creation with our own proprietary technology, dramatically cutting costs. Our labels are manufactured to exact specifications. Our position as a large volume provider allows File Label Express to offer labeling technology and label stock at wholesale prices.
File Label Express…
is user friendly
has no risky dependencies
requires only a modern browser
is device and OS agnostic
uses the latest technology
is affordable
Contact us today for a free consultation.